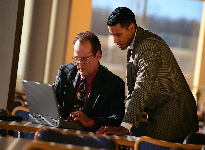 PCR Systems, Inc
1430 Joh Avenue
Suite F
Baltimore, Md 21227
Local 410-646-0400
Toll Free 800-788-7271
Fax 410-644-7773

For information or comments regarding our website, please contact our webmaster at webmaster@pcrsystems.com

© 2011 PCR Systems, Inc. All rights reserved

Employment Opportunities....

PCR Systems is always looking for new talent and creative thinkers to add to our staff. For general inquiries regarding employment opportunities with our company, please email the appropriate link from our Contact Us page.

Below are specific job openings that are currently available:

IT Outsourcing Sales and Business Development Rep

We are currently searching for a full time Sales and Business Development Representative to increase our customer listing and expand our existing client base. Our candidate will have a succesful track record of selling IT Services to mid-sized and large organizations. Services include a variety of Equipment Maintenance Programs, On-Site Technical Placement, and Special Project Services.
The best candidates will have a minimum of 3 years IT Service Sales experience, will be highly effective at cold calling, qualifying decision makers, creating demand, and closing business.

Our compensation package includes:
* Salary plus commission plus bonuses
* Unlimited commission potential
* Auto allowance
* Monthly receiptable sales expenses
* Comprehensive Health Insurance (75% employer paid)
* Vision, Dental, and Aflac options

For more information or to apply for this job please email your resume' to kperrett@pcrsystems.com. All resume's will be reviewed and qualified candidates will be contacted to arrange an interview.